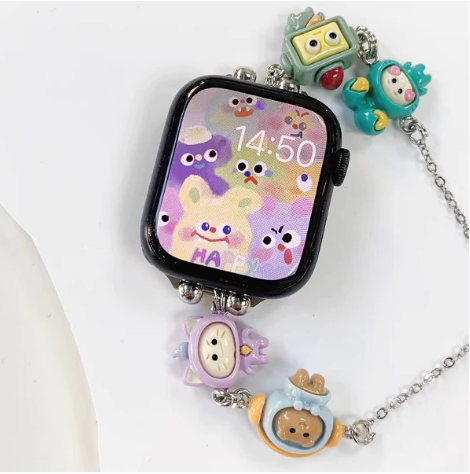 Introducing Our Perfect Blend of Style and Cuteness: Kawaii Apple Watch Bands!Upgrade your Apple Watch with a touch of adorable charm and unparalleled cuteness. Our Kawaii Apple Watch Bands are designed to add a playful and fashionable twist to your wrist companion. Crafted with meticulous attention to detail, these bands are perfect for those who want to express their fun-loving personality while staying on top of their daily activities.Say goodbye to ordinary and hello to extraordinary! Our cute Apple Watch bands are a delightful fusion of style and functionality. Made from high-quality materials, they are not only durable but also...
---
Want to buy some different, fashion and cool airpod case cover for yourself or a gift for your girlfriend, colorulife.com can give you some ideas to meet your demand. Some design are kawaii and funny.  Most products are made from  silicone bumper with shock absorbing give your Airpods multifaceted protection. All with keychain is very convenient to hang the Airpods on your backpack. Whether you are hiking or running, or relaxing, you can enjoy yourself. No need to worry about losing Air pods. Everyweek they will supply some new design, design like dog, marble,painting, unicorn,  aesthetic , orange, food ect.  The following i will share some design...
---
Want to find some trendy and cheap iPhone 7 & iPhone X Case suitable in this summer of 2018, but idea in your mind. Now i have some design to show you, maybe can save your time to find some design which you like.   1. Pink Dinosaur iPhone Case If some friend like dinosaur, you can take consider of this pink dinosaur iPhone case, which suitble for iphone 6, iphone 6 plus, iphone 7, iphone 7 plus, iphone 8 plus,  iphone 8 and  iphone X.  TPU material, full cover case. 2. Fruits Clear iPhone Case It is summer time now, fruits pattern iphone case is very popular in this season.     3....
---
It is one year Since M8 Wireless Karaoke Microphone Bluetooth Speaker have releaced in the market. This model is the first one built-in party light comparing with other home wireless karaoke microphone.  It is easy to use and can record your voice.   Now the function of it have upgrade, it solve the problem which two wireless KTV speaker can't be used at the same time. Using M8 Wireless  Karaoke speaker,  two bluetooth ktv speakers can connect one phone at the same time.   Excellent sound quality and party light give more funny and enjoyable for users. It is a perfect gift choice for kids, birthday party, Valentine's Day .     If...
---
M8 Wireless Bluetooth Karaoke Microphone is new to us, so we will worry once you buy it, how to use this M8 wireless bluetooth KTV Speaker?  Don't worry pls, it is quite simple, you just need 3 steps to use it.   First you press the power button for 3 seconds to turn on the microphone, blue light will show up when device is on. Second, open the bluetooth on your phone and scan the bluetooth devices, select "M8"to connect, there will be a notice voice after their successful connection. The third step, open any music K song APP ( you...